Brass Wire with Golden Color Makes Jewelry or Crafts
Brass wire is an alloy of copper and zinc. The amount of copper can be different, such as 65%, 70%, 80%, 85% and 90%. Brass wire usually is round, also has half-round and flat. It could be packed into spool wire, coil wire and cut wire, cut wire is straight or corrugate. Compared with copper wire, brass wire has better abrasion and corrosion resistance, better tensile strength, lower electricity and heat conductivity. It can be used for jewelry components, ring bands, bracelets and crafts, also can be used for crimped brushes.
BW-1:
Coil round brass wire.
BW-2:
Spool round brass wire.
BW-3:
Spool flat brass wire.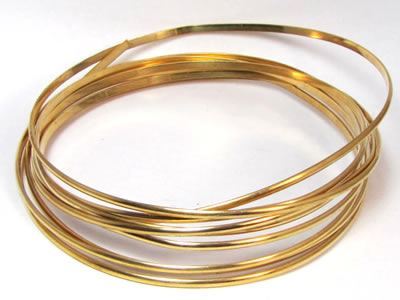 BW-4:
Coil half-round brass wire.
BW-5:
Corrugate cut brass wires installed on metal ring are used as brush.
BW-6:
Thick brass wire on plastic spool.
BW-7:
Straight brass wire brush.
BW-8:
Straight cut brass wire.
BW-9:
Corrugate cut wire.
Specification
Material:

65% copper and 35% zinc.
70% copper and 30% zinc.
80% copper and 20% zinc.
85% copper and 15% zinc.
90% copper and 10% zinc.

Wire shape: round, half-round, flat.
Package type: spool brass wire, coil brass wire, cut brass wire (straight or corrugate).
Color: golden.
Length can be customized.
Brass wire specification
Product code
Gauge
Diameter
mm
Inch
BWS-4
4
5.2
0.205
BWS-6
6
4.11
0.162
BWS-8
8
3.26
0.128
BWS-10
10
2.5
0.098
BWS-12
12
2.05
0.081
BWS-14
14
1.63
0.064
BWS-15
15
1.45
0.057
BWS-16
16
1.30
0.051
BWS-17
17
1.2
0.047
BWS-18
18
1.02
0.040
BWS-20
20
0.81
0.032
BWS-21
21
0.7
0.028
BWS-22
22
0.63
0.025
BWS-24
24
0.51
0.020
BWS-26
26
0.41
0.016
BWS-28
28
0.31
0.012
BWS-30
30
0.25
0.010
BWS-32
32
0.2
0.008
BWS-34
34
0.15
0.006
Features of brass wire
Abrasion, corrosion, high temperature and spark resistance, non-magnetic.
Acid, alkali resistance.
Durable, dead soft, good ductility, tensile strength, bright surface.
Can be bendable by hand.
Convenient to transport and use.
Brass wire tarnishes slower than copper wire.
Application of brass wire
Used for ring bands, bracelets and crafts.
Used for jewelry components, such as ear wires, chain mail, jump rings, wire wrapped pendants and beaded chain.
Widely used in industrial filtration, petroleum, chemical industry, printing, electric cable and other industries.
Corrugate brass wire can be used for crimped brushes.
Packaging
Coil brass wire:

Inside with plastic film and outside with hessian, then pallet.
Inside with plastic film and outside with woven bag, then pallet.

Spool brass wire usually packed in carton box.
Cut brass wire is packed in carton box or wooden case with plastic film.
Inquiry for Our Product
When you contact us, please provide your detail requirements. That will help us give you a valid quotation.